Daily Tarot Today | Daily Tarot Tomorrow
Daily Tarot
For Friday, April 18th, 2014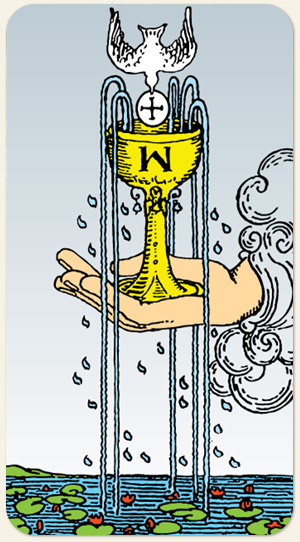 Today's tarot card is the Ace of Cups, and what a welcome sight it is too. This is a lovely positive and spiritual card which has a good resonance with today's Venus-Pluto sextile.
The Ace of Cups is a card which often signifies an emotional new beginning. Cups, of course, represent the water element, and tie in nicely with Venus' current position in spiritual Pisces. The problem with Piscean energy, however, is that it's so easily sidetracked and confused; it's easy now for us to get lost in our emotions and to struggle to find a way forwards.
Today's Ace of Cups indicates that decisive action is within our grasp, and that's exactly what the Venus-Pluto sextile offers too. Pluto brings change and renewal, but this sextile is a helpful and positive one, and helps us to find a new direction within the realm of emotions and feelings.
The message from today's tarot card is simple, therefore: choose to feel happy and spiritual today (because it is a choice) and banish your feelings of negativity. Taking control of your emotions is possible, and once you do that, you can choose to feel more positive both today and every day in the future.