Daily Tarot
For Saturday, July 26th, 2014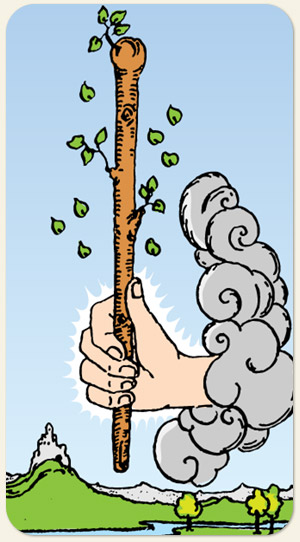 The tarot card chosen for this New Moon is the Ace of Wands - and what a perfect card it is too, for the Leo New Moon and the energies which tumble from it.
The Ace of Wands is a beautiful tarot card, filled with fire, passion, drive and creativity. Much like the sign of Leo, where today's New Moon occurs. In the Rider Waite tarot, a celestial hand offers the single sprouting wand to the reader - in the relay race of life, it's very much your turn now.
All New Moons are ideal for new beginnings, but a fire New Moon in particular is a very uplifting kind of energy. Whatever you want to renew - your love life, your career, your family ties, your finances, your spiritual growth? - you now have the opportunity to breathe new life into something which has stagnated. Let your enthusiasm carry you. This infectious enthusiasm is one of Leo's greatest strengths, so let it serve you well now.
As you make choices and plans today, bear in mind that the Ace of Wands gives you total freedom of direction. If you want to change your path completely, that's fine. You don't have to build on previous foundations if you choose otherwise. The freedom of this card, and of today's Leo New Moon, is exceptionally empowering.