Daily Tarot Today | Daily Tarot Tomorrow
Daily Tarot
For Monday, March 10th, 2014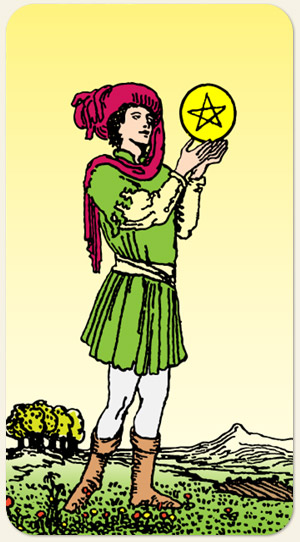 The tarot card for today is the Page of Pentacles, a positive card which speaks of new beginning and new projects which will benefit us materially. What does this have in common with today's astrological aspects?
The Page of Pentacles is depicted in the Rider Waite tarot as a young man in fine clothing, holding aloft a single pentacle. He looks at it admiringly, and behind him a fertile landscape reminds us that if we're willing to put in the hard work, good things will come to us.
Today's astrological aspects include a Moon-Jupiter trine. The Moon is in Cancer, that most nurturing of signs, and Jupiter is the great provider of bounty and good fortune. It's a "lucky" day, but those of who study spirituality understand that we make our own luck through the manifestation of our positive thoughts. The Page of Pentacles understands this - he understands that in order to reap the rewards, he has to tend the crops.
The message today is simple, therefore. Yes, there is good luck to be had, and yes, it's a positive and optimistic time. The Cancer Moon and the Page of Wands caution us to take care of matters, however, rather than to simply leave them to unfurl. Today's Moon also squares Uranus and opposes Pluto, so if we take our eyes off the ball, the Page of Wands might drop that beautiful pentacle, the fields may go untended and all of our efforts will have been for nothing.
Today, enjoy the good fortune and optimism - but keep working away in the background, just like you always do.