Daily Tarot
For Wednesday, August 20th, 2014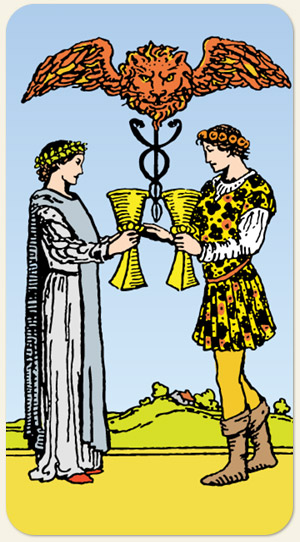 The tarot card for today is the Two of Cups - a very gentle card which ties in well with the Moon-Neptune trine which is in aspect today.
In the Rider Waite tarot deck, the Two of Cups depicts a young man and a young woman holding cups out to each other. The underlying message of the Two of Cups is partnership, although not necessarily a romantic one. It's about a blending of energies towards a common goal.
Today, the Moon in gentle Cancer trines Neptune in mystical Pisces. This is a strong water aspect, and of course Cups it the suit which corresponds to water. When the Moon trines Neptune, we find that our imagination soars and so does our sensitivity - but the price to pay is a certain confusion and vagueness.
The Two of Cups symbolizes the sweet, fair and romantic vibe which is around today, but don't forget that when two cups of anything blend together the result can be a muddy mess. It's not easy today to separate emotion from fact or truth from fiction, and the Two of Cups is a subtle warning to try to maintain as much clarity as possible.