Daily Tarot Today | Daily Tarot Tomorrow
Daily Tarot
For Monday, September 1st, 2014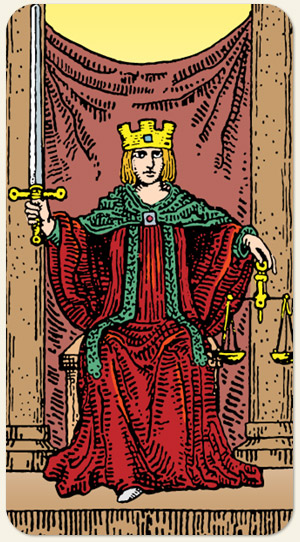 The tarot card for today is Justice. Its major lessons, given the days Sun and Mercury aspects and a spectacular Sun and Mars quintile: internal balance independent of others and a creative approach to overcoming external obstacles.
Justice, depicted in Rider Waite as seated nobility, a woman in control of her own destiny and able to influence the destiny of others, holds a sword in her right hand and the scales of balance in her left. She is able to help an individual cut through a difficult situation while keeping their mind focused on the balance that is necessary to keep their personal universe in working order. Her beauty is severe. As Justice, she is not focused on external frivolities, but ever mindful of her ultimate goal.
Given todays Sun in Virgo and Mercury in Virgo, Justice can help you wrench your burning I work better when others believe in me nature into a self-willed focus, mercurial only to your own internal drive. Sun in Virgo motivates you to positively influence others; however, youre always looking for others approval to determine the success or failure of this influence. Mercury in Virgo reminds you to remain critical and efficient, self-guided instead of blown about by the need for this external approval.
Todays Sun and Mars quintile helps you bring self-assurance to bear in work relationship matters. Are others constricted by the clash of external pressure/internal self-control brought about by todays Sun in Virgo and Mercury in Virgo? Almost certainly. Stay light and lively so they can focus on their own positive natures. This can bring a brilliant aspect to the home environment also. In matters of the hearth, home and heart, youll be confident and joyful, leading others with your strength of heart and head while you encourage individual freedom.