Knight Of Pentacles
Free Tarot / Tarot Cards / Knight Of Pentacles Tarot Card Meaning
The Knight of Pentacles card lands us right in the middle of rolling, verdant hills – the purples and greens in this card are both fascinating and beautiful. The knight himself, front and center, ride a stark black horse wearing a red saddle and reigns. The horse is remarkably still – every other knight in every other suite has some movement happening, but the Knight of Pentacles and his horse sit motionless. The knight himself is decked out in his finest metal armor, bits of his clothing red in color. In his one hand he holds out a pentacle – not moving it nor offering it, but holding it out so he can examine it (and perhaps use a few of it's better powers).
To start with, we'll want to disambiguate court cards. They are often the most difficult to read, due to their general nature. It is easier to remember that a court card often signifies a person or entity: the sex of the person may not match that of the court card, but the attitude and persona will seem familiar. If it's clear, however, that the court card doesn't refer to a person, remember to break it down further. First, define what the suite stands for – e.x. Cups generally refers to emotion. Then take the role of that court card and apply it to the suite – e.x. A Page of Cups would be a young juvenile in the world of emotion, just as the Page of Swords is the inexperienced lad of thought. This can help you to decide what the court card is trying to tell you.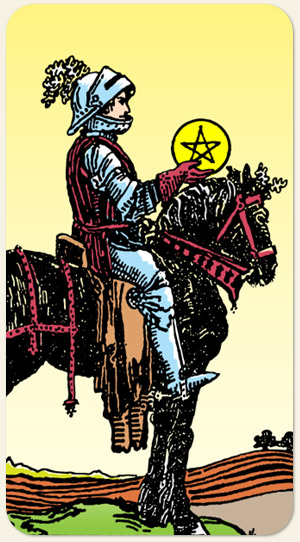 Person: This knight is a hard-working young man, but he can let that work drive him straight into the ground. He tends to be given work that is slow and generally unfulfilled, but he will be determined to finish every boring assignment that comes his way. His determination is admirable, but he tends to get needlessly obsessive over small details. He'll be the one wrapping up one of his boring assignments, only to not send it in until he decides what font his paper should be written in... which will take him an hour or two to choose. He's a realistic sort, but can be quite a Debbie Downer when it comes to it – he'll be the first to shoot down your wild hopes and dreams. He has worked hard to attain his position, but he's unlikely to want to move now that he's where he is – he won't want to go looking for adventure any time soon.
Metaphor: The Knight is imparts both counsel and warning – his card tells you to pursue refinement in the positive areas he represents, but avoid his negative aspects at all costs. While you should pursue his diligence, beware of his tendency to overwork himself... often for little or no reward. Get excited, not obsessive – obsession is a drive that can eventually harm you, while excitement will always leave you better off. Lastly, remain realistic... but don't be too afraid to try and adventure or two. Don't worry, it won't hurt.
Here are a few things to ask yourself when you see the Knight of Pentacles in your readings. What energy of the knight's is helping, and what energy is hurting? What characteristics of the knight do you see in yourself? Are you unadventurous and protective? Are you diligent and hard working? How could you make steps towards changing yourself for the better?
The Knight of Pentacles has an upside and a downside, and many others cards in the tarot deck compliment either side well. For his downside, the Four of Pentacles matches the Knight well – just like the Knight, the man on the Four of Pentacles is afraid to relinquish his hold on the pentacles for fear that he might lose them. The Eight of Pentacles, however, showcases the some of the many talents the Knight possesses, namely his dedication to great and finely crafted work.

Click here for a FREE Tarot Reading!