Five Of Wands
Free Tarot / Tarot Cards / Five Of Wands Tarot Card Meaning
It's the cry of a thousand siblings - "Stop touching me!" Another sibling gets it in their mind that they are going to bother someone to no end, and why not pick someone who they're related to? Chances are, the sibling they bother has done the same thing to them before – they now see it as paying back the favor. Soon slap-fights ensue, and the kids have to be pulled apart. Why feel the need to bother each other incessantly? No one is really sure. This, however, is the energy of the Five of Wands.
The Five of Wands is covered in men – fighting, struggling, disagreeing men. The men are gathered on a wide, sandy beach. They all have their wands/staffs high up in the air, and they all seem to be getting tangle up in each other. Some people seem out to actually fight, while others just seem confused that something is blocking the way of their movement. One or two of the men look genuinely shocked that someone else would be looking for a fight at all! It doesn't seem that this conflict will resolve any time soon.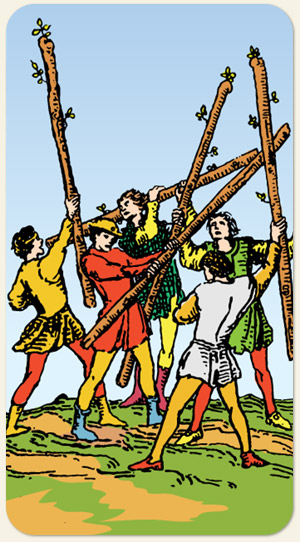 This card is all about feeling as though you are working at cross-purposes. If you have pulled this card in your reading, chances are you've been having a tough time getting other forces in your life to work alongside you. Sometimes things simply don't want to go smoothly. Your co-worker decides to lie about you at work. You spouse fights against whatever you want to get done today. Even the corner on the edge of your bed seems to want to trip you every time you walk in the room. These hassles are just that – hassles. Thankfully, this card is saying that they won't last forever: these type of small-time struggles can't go on for very long.
This card also points to possible contention between you and others. When you feel like you're in a race with others, things can get ugly fast. People can be friendly in a competitive fashion, but competition tends to bring out the worst in people. If you feel that you are competing with others (physically or mentally), try to see what it's really worth to you before you go on fighting. Are you getting anything worthwhile out of this struggle? Is it worth pursuing, or are you competing blindly?
Lastly, this card can refer to complications with well-laid plans. It can be insanely frustrating to work out all the kinks in a plan, only to stumble into some new, unforeseen problem. Again, this card is the card of short-lived battles: it can't last forever, and the Five of Wands is saying that it won't. Keep your chin high and shove through those issues.
Here are a few things to ask yourself when you draw the Five of Wands. What struggles are yo facing right now? Do they have a foreseeable end? Can you focus on the light at the end of the tunnel, instead of becoming frustrated with these hassles? Are you feeling as if you are competing with others right now? How important is that competition? Are you trying to outdo someone simply for the sake of outdoing them, or will you actually gain something at the end? Is the fight really worth it?
Both the Ten of Wands and the Five of Swords have a lot in common with the struggles of the Five of Wands. The Ten of Wands is essentially the struggles card – the Five of Wands actually has less struggling than the Ten does. Keep in mind that the Five of Wands refers to a short-term struggle, where the Ten of Wands might be more long-term. The Five of Swords has a good deal in common with the Five of Wands, especially when it comes to competition – be careful not to wound anyone in your contention, or you might end up getting the Five of Swords card next!

Click here for a FREE Tarot Reading!